Hifonics ZRX600.4
600W RMS, 4-Channel Class A/B Zeus Series Car Amplifier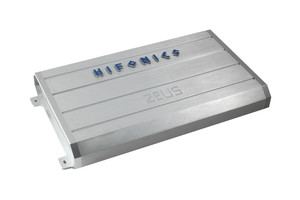 4-Channel Class A/B Zeus Series Car Amplifier
RMS Power Rating:


4 ohms: 75 watts x 4 chan.


2 ohms: 150 watts x 4 chan.


Bridged, 4 ohm: 300 watts x 2 chan.


Pulse Width Modulated MOSFET power supply
LED power (green) and protect (red) indicators
Variable Bass Boost (0 to +12 dB bass boost at 45 Hz)
Soft start turn-on
4/3/2 channel operation
Preamp RCA outputs to daisy chain multiple amps
3-way protection circuitry (thermal, overload, and speaker short protection)
Heavy duty aluminum alloy heat-sink for heat dissipation
Nickel-plated RCA level inputs
Nickel-plated screw terminals
Variable high-pass filter (60-13000 Hz, 24 dB/octave)
Variable low-pass filter (30-250 Hz, 24 dB/octave)
CEA-2006 compliant amplifier
Frequency response: 10-45000 Hz
8 gauge power and ground wiring is required for installation. Contact us for information regarding a discount on select amplifier kits from our website when purchased together with this amplifier.
Dimensions: 13-2/3"L x 10"W x 2-1/3"H

Print
Related products
Price: $61.99


400W Max CRYPT Series 2-Channel Amplifier

Price: $84.99


900W Max, CRYPT Series Class A/B 2-Channel Car Amplifier

Price: $136.99


4500W Max Onyx Series Class D Monoblock Power Amplifier with Remote Level Control

Price: $89.99


1000W Max, Monoblock Gothic Series Car Amplifier

Price: $112.99


1600W Max Monoblock Gothic Series Class A/B Car Amplifier

Price: $79.99


1500W Max Phantom Series Monoblock MOSFET Power Amplifier with Remote Level Control