4.3 TFT LCD Car Bluetooth Rear View Rearview Monitor Mirror Touching Button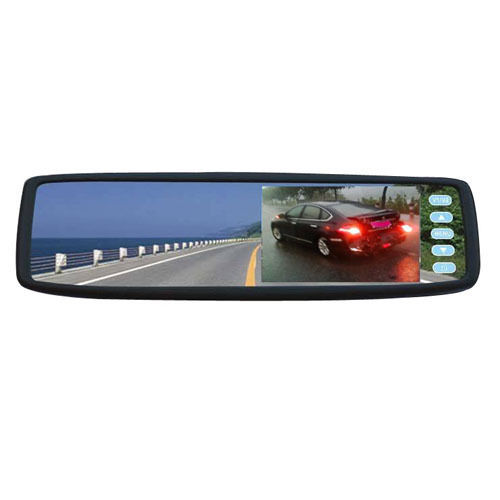 Features:
1. digital high-definition TFT-LCD display, play DVD / VCD or Rear view camera images clearer, more vivid, colorful glory;
2. Built-in Bluetooth: With Bluetooth hands-free, caller number display, manual answering mode, to ensure traffic call things correct;
3. Special optical lens can replace the original car rearview mirror, Rear view camera when the sun strong anti-vertigo, so that a clearer rear view, reversing a more secure;
4. Reversing automatic wake-up Rear view camera system functions, traffic automatically resume audio and video entertainment player, so that traffic safety merger of entertainment and parking, to driving fun and safety integration;
5. Light touch approach control, touch-sensitive technology, quick operation, nice appearance;
6. Can be connected to VCD / DVD / GPS / TV and other video output signal compatibility;
7. Limousine special metallic stent, pure installing electronic products, consistent with the original car;
8. Complete car sound special support, covering all the mainstream models.


Specifications:
1. Show foot size: 4.3 inches. Best for the safe use of Rear view;
2. Displays: TFT-LCD. digital high-definition screen, make the image clearer, more vivid colors;
3. Resolution: 480 (H) × RGB × 272 (V). HD resolution;
4. Display format: 16:9 or 4:3. Entertainment and dual rear view display format;
5. Power: ≤ 2W. Ultra-low power consumption, to ensure products have no fever.
6. Rated Voltage: DC 12V. The original vehicle standard voltage;
7. Video Input: AV1/AV2. Èr video input, AV1 then VCD / DVD video output signal (system default), AV2 connection reversing camera (reversing automatically switch to);
8. Signal format: PAL / NRSC / AUTO. Compatible with all signal formats;
9. Brightness: 250 CD / ㎡. HD brightness;
10. Contrast: 300:1. A clear contrast.


Reverse use features:
1. Power situation: driving process automatically when reversing from the video AV1 (VCD / DVD) playback screen switches to AV2 (Rear View Camera) screen will automatically return after reversing cut to video AV1 (VCD / DVD) Play screen, so traffic and parking safety compatible recreation;
2. Shutdown situations: automatic start reversing parking detected AV2 (Rear view camera) after the signal and displays the AV2 as the screen, automatic shutdown after backup to make our products more energy.




Print
Related products